Missionaries
30 Days of Prayer for Missionaries
Mission to the World has asked for daily prayer during the month of November. They have provided a prayer guide, which is available here. Please join us praying for our missionaries as well as God's mission throughout the world to reach those who have never heard the good news of Jesus Christ!
Jose and Lisa Chambilla | Wycliffe Bible Translators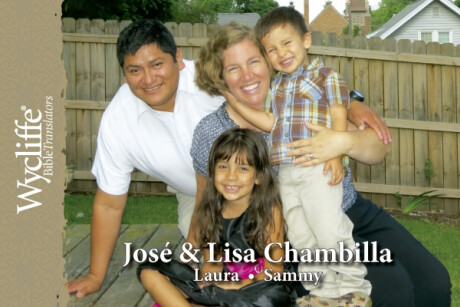 After serving in various support roles for 15 years in Peru, Wycliffe asked the Chambillas to move to Dallas, Texas, in order for José to fill a crucial role in Computer Technical Support for the Americas Area. Residing in Dallas is strategic and the impact of José's help will now be greater than ever. Lisa will be focusing on her family duties right now, but when the time comes, she can easily plug into the team.
To read more about the Chambillas or to support them, click here.
Richey and Keli Goodrich | Mission to the World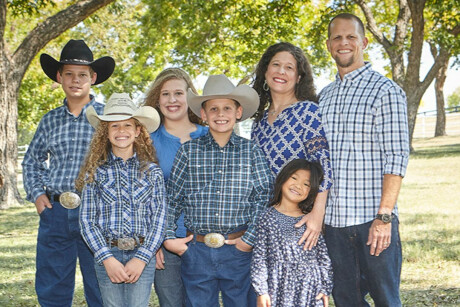 Richey and Keli Goodrich grew up an hour outside of Dallas, Texas. They both felt called to spread the saving glory of Jesus in missions from the time they were around 19 years old. Keli wanted to do this as a nurse. Richey wanted to do this as a pastor, church planter, and theological educator.
In 1999, they married with the goal of answering Christ's call together. Keli eventually became a women's health nurse practitioner and Richey an ordained pastor in the Presbyterian Church in America. In 2010 they moved to South Asia to train indigenous pastors and plant and pastor a church in a global city. They loved the ministry, but after almost six years on the field they were denied visas and it became clear God was calling them elsewhere.
God has now called Richey and Keli to Sydney, Australia, to help reach the many Asians studying and working in this global city. They are excited by the team's vision to raise up Christian leaders for the unreached peoples throughout Asia. Richey will serve as one of the pastor's at Harbour City Church and aid in the university ministry to international students. They are joined by their four children: Hadassah, Josiah, Hannah, and Jedidiah.
To read more about the Goodriches or to support them, click here.
Doug and PJ Higby | Wycliffe Bible Translators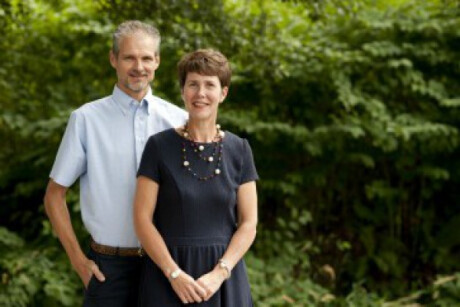 Doug and Priscilla were privileged to take part in the translation of the Fulfulde New Testament which was dedicated in 2006. During that process they became familiar with the processes of linguistics and translation, and with the computer technology that has potential to speed up the work. Today, they use the skills and experience they gained to train people to use technology to translate God's Word more efficiently. As they train others and multiply their labors, they hope to equip the next wave of translators and support Wycliffe's momentum to begin a translation project in every language that needs one by the year 2025. Consider partnering with the Higbys in their Wycliffe ministry in harnessing computer technology to expedite the translation of God's Word.
To read more about the Higbys or to support them, click here.
Scott and Ruth Hill | Mission to the World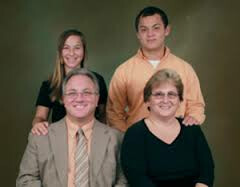 Scott and Ruth married in 1988, just a few months before Scott began seminary at Columbia International University in Columbia, S.C. After completing seminary in 1992, Scott was called to serve as pastor of Salem Presbyterian Church in Gaffney, S.C., where he served for 10 years. In 2002 God called the Hills to Newberry, S.C., where Scott served as pastor of Smyrna Presbyterian Church.
Scott and Ruth have been involved in short-term missions with MTW in Cherokee, N.C., since 2006. God has placed a desire in their hearts to become full-time missionaries in Cherokee to reach out with the gospel to those who are without Christ. MTW has had an active ministry in Cherokee for several years and the Hills are looking forward to becoming a more permanent part of this ministry. They will be involved in ministries of outreach and discipleship to the people of the Eastern Band of Cherokee Indians. Ruth's gifts are in hospitality, small group Bible study, mentoring women, and working with children. Scott's gifts are in teaching, preaching, and mentoring men.
To read more about the Hills or to support them, click here.
Mission: Hope

Mission: Hope focuses on community-driven development in impoverished communities. They address the physical, emotional, and spiritual health of a community. To address extreme poverty at its deepest levels, a proactive and holistic approach is required. Partnering with churches, indigenous organizations, local leadership, and other US nonprofits, Mission: Hope goes into remote areas around the world to help anchor healthy, sustainable communities of faith.
To read more about the Rivers of the World or to support them, click here.
Brian and Nicole Tsui | Reformed University Fellowship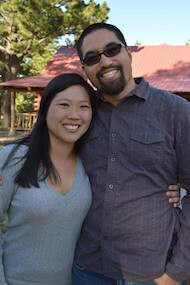 Campus minister Brian Tsui is from Cupertino, CA (15 minutes outside of San Jose) and attended University of California, Santa Barbara. He met his wife, Nicole, at a campus fellowship meeting. After graduating, Brian worked for two years in the private sector and then attended Redeemer Seminary in Dallas, TX. Brian served for 2.5 years at Bethel Church PCA in Dallas before becoming a campus minister. Brian loves spending time in the outdoors, swimming, surfing, and practicing mixed martial arts.
Brian and Nicole recently adopted a 2 year old boy from Seoul, South Korea. His name is Archer Clyde Tsui. Want to send them a gift to help them welcome Archer into their home? Click here.
To read more about the Tsuis or to support them, click here.