Meet Our Staff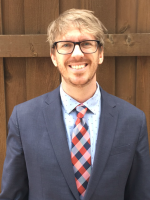 Anton Heuss
Senior Pastor
E-Mail:

Rev. Anton Heuss served Bethel Church PCA as associate pastor for nine years before being elected senior pastor in November, 2015. By God's grace, he grew up in a Christian home and never knew a day without Christ as his Savior. His father is a pastor, and growing up, Anton had the privilege of spending countless hours at the dinner table listening to his father discuss theology and life with church members and visitors. Little did he know that God was training him for ministry.
Sensing the call to ministry in 1997, Anton was mentored by his pastor as he studied philosophy and history at the University of Texas at Dallas. After graduating in 2001, he attended Westminster Seminary California in Escondido, California, where he received an M.Div. degree (May 2005) and was awarded the Arthur Forest Wells Award for aspiring pastors in recognition of academic excellence.
He married his wife, Leah, in 2007. Leah has a degree in biblical counseling from Westminster Theological Seminary in Philadelphia. Anton and Leah have three children: Aven (born 2012), Charis (born 2015), and Cyprus (born 2018).
Anton loves reading, riding bike, listening to great music (preferably at high volume!), playing trains with his son, and making his wife and daughters laugh.